Spa Services
Spa Venus Day Spa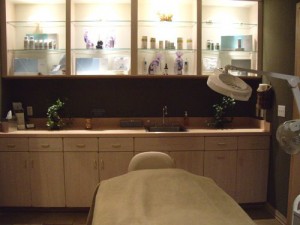 As part of Dr. John Zimmermann's Aesthetic Surgery Center of Napa Valley, Spa Venus Medical Spa offers advanced skin care treatments from experienced professionals who can help you improve a number of skin conditions.
Spa Venus is a fully equipped skin care office with state-of-the-art treatments designed to reduce signs of age, eliminate undesired hair, control acne, improve areas of sun damaged skin and complexion irregularities, and much more. Because our staff is extensively trained in advanced clinical skin care, we can provide you with the best of both worlds: safe, effective treatments in a tranquil and restorative environment.
Skin Care Services
DEEP CLEANSING FACIAL
A non-chemical enzyme exfoliation with steam and extractions to remove pore-clogging debris. Great for sensitive teen skin, pregnant or lactating moms. 50 minutes.
$95.00/each
$340.00/block of 4
DEEP CLEANSING ACNE FACIAL
A deep cleansing acne facial for moderate to severe acne utilizing steam, masks, extractions, Blu-U technology by Dusa Pharmaceuticals. 80 minutes.
$120.00/each
$400/block of 4
MICROPEEL
An alphahydroxy acid (glycolic acid) peel for stimulating cellular turnover. Perfect for maintaining your skin in its healthiest state, the perfect treatment to give your skin a healthy glow before a special event. 50 minutes.
$95.00/each
$340.00/block of 4
VI PEEL
Next generation of chemical exfoliants for all skin types. Great for texture and acne. 50 minutes. Includes home care products.
$300.00/each
$840.00/block of 3
OBAGI BLUE PEEL RADIANCE™
See and feel tighter, smoother, brighter looking skin after just one peel.
$95.00/each
$340.00/block of 4
MINI PEEL
A quick clean up, skin exfoliation, stimulating micro-peel or Obagi Blue Radiance. 25 minutes.
$50.00/each
MICROPEEL PLUS
A betahydroxy acid peel for acne and oily skin. Great treatment to alternate with the deep cleansing facial. 50 minutes.
$95.00/each
$340.00/block of 4
MELANGE SKIN BRIGHTENING SYSTEM
A medical grade peel specifically targeting Melasma. This peel is safe for any skin type and is very effective for severe hyperpigmentation. Includes one month of home care products. 50 minutes.
$700.00/each
PHOTODYMANIC THERAPY
For patients with actenic keratoses of the face or scalp using aminolevulinic acid and Blu-U technology by DUSA Pharmaceauticals. Effective for moderate acne. 120 minutes.
$375.00/each
SKIN CARE CONSULTATIONS
A complimentary service to determine the ultimate treatment plan based on the patient's goals. Treatment plans may consist of a combination of RX products and office procedures best created to achieve the desired results. 30 minutes.
LASH TINT – 25 minutes – $30.00
BROW TINT – 15 minutes – $20.00
BROW WAX – 25 minutes – $30.00
Contact Spa Venus at the Aesthetic Surgery Center of Napa Valley
If you would like to learn more about treatments available at Spa Venus, or if you would like to schedule a consultation with one of our aestheticians, please contact us today.