About Us
The Aesthetic Surgery Center of Napa Valley is a comprehensive plastic surgery and cosmetic enhancement practice comprised of experienced medical professionals who are devoted to providing each of our patients exceptional care and beautiful results. The medical director and founder of our practice, Dr. John P. Zimmermann, focuses his efforts and the efforts of his staff on the successful blending of art, science, experience, and personalized care to help you achieve your goals. We offer a full range of body, breast, facial, and skin rejuvenation procedures, and we operate a fully accredited surgical facility designed with the highest safety standards.
Please follow the links below to learn more about our plastic surgeon, our office and facilities, and our frequent educational seminars. If you have questions, or if you would like to schedule a consultation, please contact the Aesthetic Surgery Center of Napa Valley today.
Our Offices
At the Aesthetic Surgery Center of Napa Valley, we offer many treatment modalities to enhance our core service of aesthetic surgery. Due to the wide range of services offered by our board-certified plastic surgeon, Dr. John P. Zimmermann, we have a staff that has an extensive and impressive skill mix. Our medical staff consists of Registered Nurses and Operating Room Technicians who are extensively trained and experienced in all facets of surgical and emergency care. These caring staff members function as an extension of Dr. Zimmermann and are an excellent resource for patient questions and emotional support.
---
"I am very pleased with the service I received and the results from my procedure. I would recommend Dr. Zimmerman to my friends and come back for future procedures."
In our business office, you'll find a team of professionals ready to assist you with the business related aspects of your care. Our primary focus is on providing excellent customer service as well as maintaining the privacy of each patient. On our staff we have personnel with extensive experience in marketing, customer service, finance and management. We believe this diverse skill mix allows us to be proactive and responsive to our patient's needs.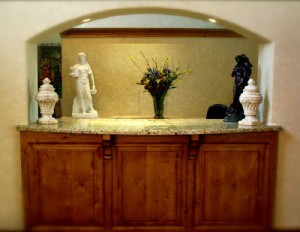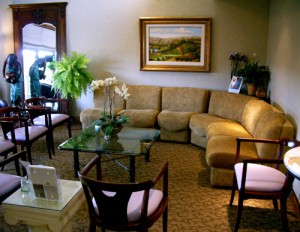 Our Accredited Surgical Facility
We have a state-of-the-art surgical facility that is fully accredited by the American Association for Accreditation of Ambulatory Surgical Facilities (AAAASF), and has been for over twenty years. Our operating room is fully equipped with the latest in monitoring devices and associated technology. Our surgical staff members are experienced and fully licensed professionals dedicated to ensuring your safety and well-being. We offer both local anesthesia, local with IV sedation and general anesthesia. Experienced board certified Anesthesiologists (physicians only) from local hospitals administer the general anesthesia. Our experienced nursing staff administer the IV sedation under Dr. Zimmermann's supervision.
To ensure your privacy we have a separate post-operative waiting room with a private entrance that can be used upon your return for post surgical visits. Your comfort and privacy are of the utmost importance to us and we have designed our center with those principles in mind.
Accelerated Post-Operative Healing Program
Over the years we have become convinced that in order to optimize healing, it is necessary to address many aspects of a patient's health. Diet, exercise, quality nutritional supplementation, and good mental health all play a major role in the rate at which we heal. One of our goals at the Aesthetic Surgery Center of Napa Valley is to provide our patients with the tools necessary to optimize the healing process and safely reduce down time, allowing our patients to return to their normal activities more quickly.
Contact Aesthetic Surgery Center of Napa Valley
If you would like more information on our practice and the procedures we offer, or if you would like to schedule a consultation, please contact the Aesthetic Surgery Center of Napa Valley today.