Testimonials
Wine Country Extreme Facial Makeover
Hello,
My name is Sandy Rogers. I am the lucky and grateful recipient of the "Wine Country Extreme Facial Makeover."
I have seen the work of John Zimmermann for years and have been so impressed. He is truly an artist. In fact, just before I applied for the makeover, I saw a friend of mine that I hadn't seen in a long time and gasped when I saw her. Later her husband told me that she had a facelift by Dr. Zimmermann. She looked stunningly beautiful. When I walked into the office of the Aesthetic Surgery Center of Napa Valley, I received a very warm and friendly welcome. Everyone there was so nice and beautiful, inside and out. That day I met with the artist, Dr. John Zimmermann. He was easy to talk to, and there was a trust there that anyone knows is very important when you decide to go through something like surgery.
Prior to my surgery date, I met with Alyce Murphree R.N., who does many things at the Aesthetic Institute, for a permanent make-up consult. She too is an artist. She enhanced my eyebrows, which I virtually had none prior to the procedure, and I had my upper and lower eyeliner and lips enhanced. I was so happy after I had it done. I wake up and have make-up on! Two weeks before surgery, I met with Aesthetician Cris Santoro, for a skin care consultation and Microdermabrasion, at the Aesthetic Institute's Medi-Spa, Spa Venus. The day after the Microdermabrasion, I went to work and people commented on how great my skin looked. after just one treatment! Plus the skin care products that they have are the very best I have ever used. I plan to keep using them for the rest of my life. My skin has never looked or felt better.
Later that day I received a regimen of supplements designed to facilitate the healing process. I also scheduled a block of seven of hyperbaric oxygen therapy treatments, which are also a key component of the Institute's post-op healing program. It was so nice just to lie in the hyperbaric chamber and relax knowing that it was helping me heal! In all of this, I must say, that I really had a wonderful experience and no discomfort.
I honestly have to say the surgery was "a piece of cake" for me. I never felt any pain afterwards. In fact, I went out to lunch with a friend two days later. After the sutures were removed and I had healed somewhat, I was given a make-up called Cinema Secrets, which was really incredible for hiding any discoloration from the surgery and laser surgery under my eyes. I was able to go places and no one knew I had had facial surgery.
Everyone was so wonderful and instrumental in my care and healing. I can't say enough good things about my experience. I would do it all again in a heartbeat. All I have to do is look at the before and after pictures and I realize how lucky I am to have had this happen to me. If you're not happy about something on the outside, there is certainly something you can do about it. I am just so thankful to Dr. Zimmermann and every one at the Aesthetic Surgery Center of Napa Valley for changing my life for the better. You all are so totally awesome. I love you and sincerely thank you!
Sandy Rogers
---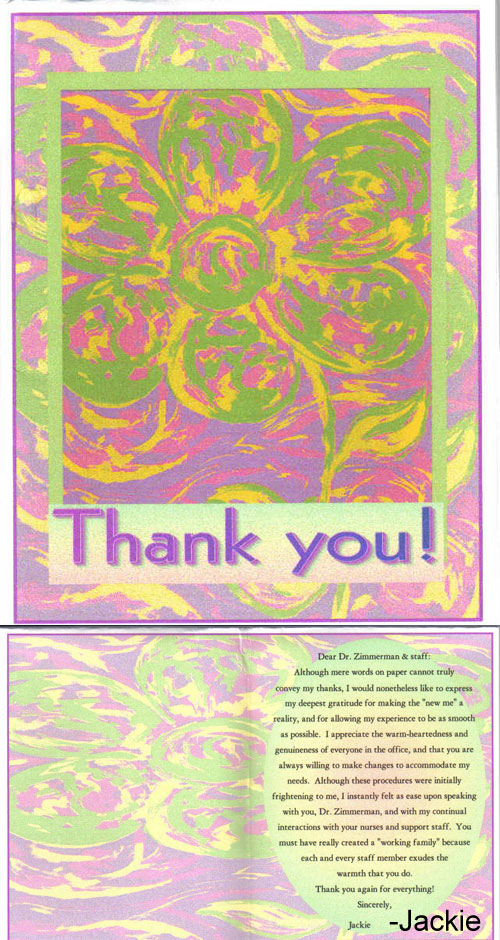 ---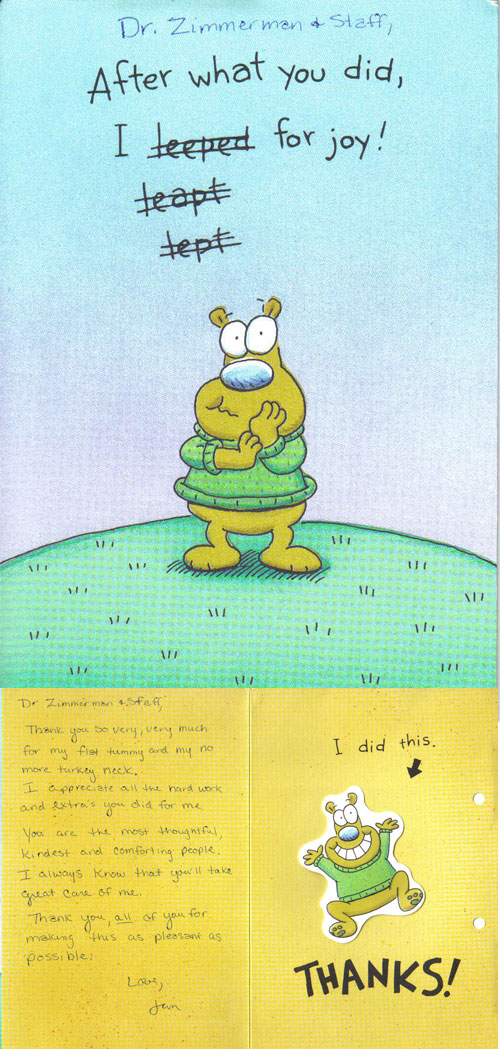 ---

---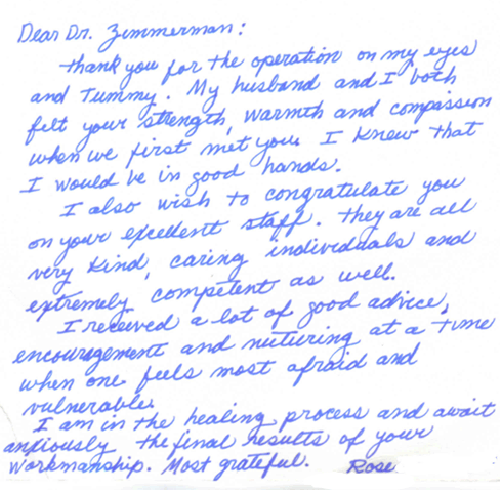 ---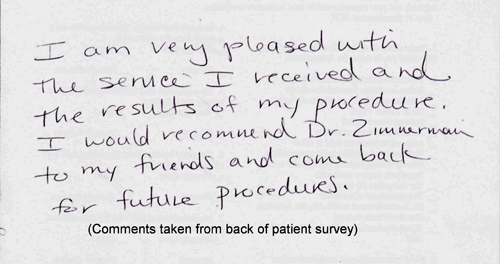 ---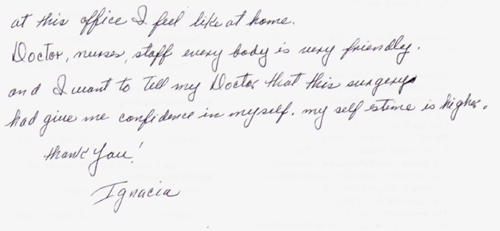 ---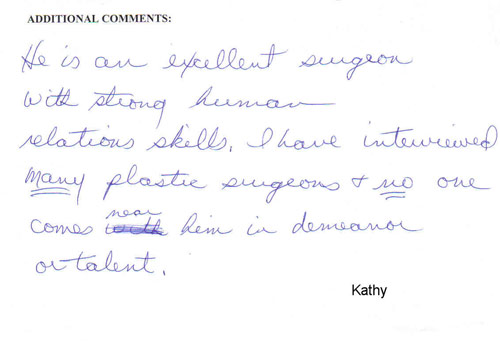 ---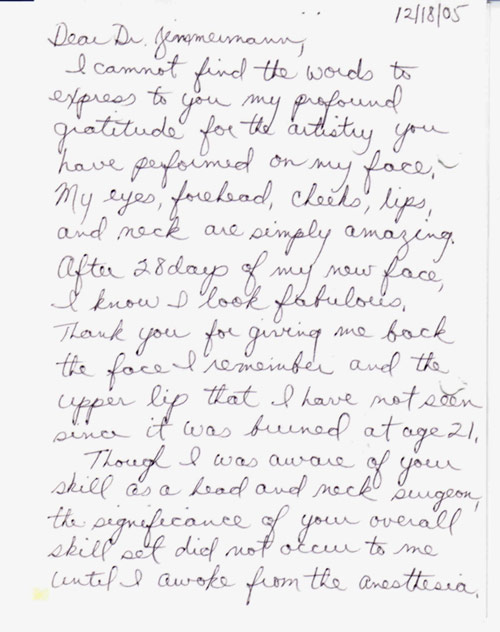 ---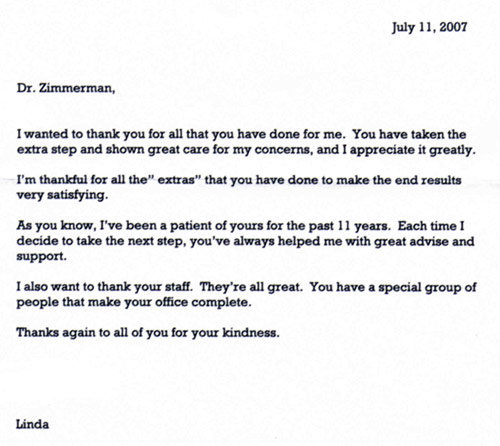 ---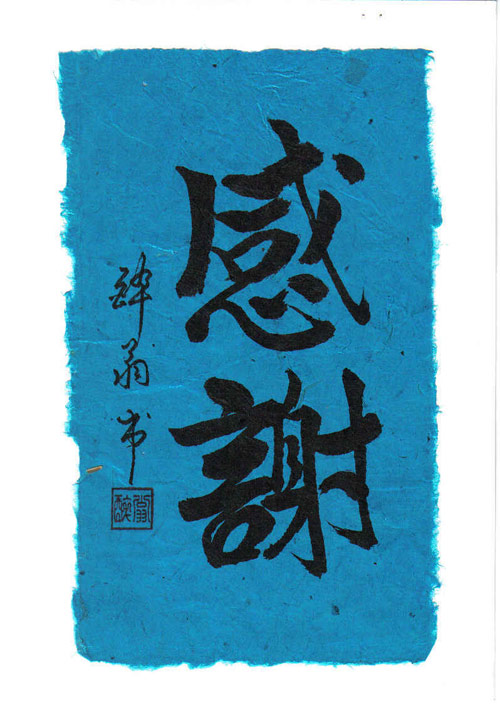 ---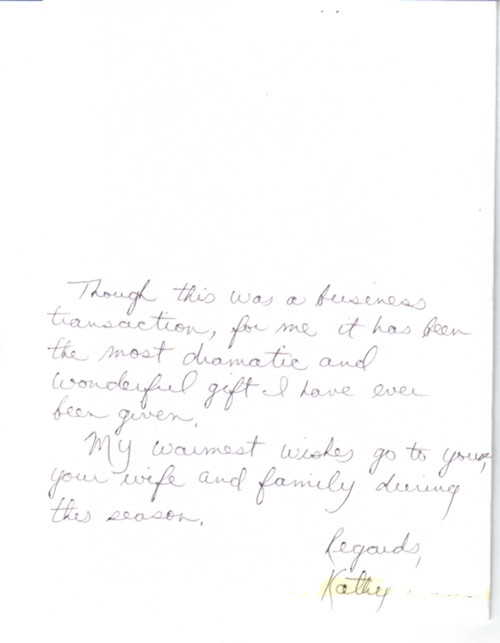 ---