Injectables and Dermal Fillers
Injectable dermal fillers offer a non-surgical alternative to help you reduce signs of wrinkles and add volume and definition to facial features. We offer some of the most advanced injectable cosmetic enhancement products available, including BOTOX® Cosmetic, Juvederm®, Radiesse®, Sculptra® Aesthetic, Belotero®, and Artefill. These innovative treatments can help you achieve your goals with long-lasting results and without the need for extensive surgery and long recovery times.
Plastic surgeon John Zimmermann, MD has had experience with facial injectables for many years, dating back to the FDA trials for Collagen injections in the 1980's at Stanford.
All of the available injectables administered in our office have been approved by the FDA for appropriate use. Some injectables are better than others for certain areas of the face or certain types of wrinkles, depressions, or atrophy. There are pros and cons to each injectable, and these personalized recommendations will be shared with each patient during the consultation appointment. Our goal is to make each patient happy, with a natural result, always ensuring safety in the process .
We will often utilize topical or block anesthetics preinjection to ensure that the patient has a most comfortable, enjoyable experience.
BOTOX® Cosmetic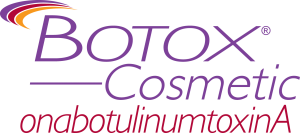 BOTOX® Cosmetic is a non-surgical injectable treatment that temporarily reduces the appearance of fine lines, forehead lines, crow's feet and frown lines for a more youthful, refreshed appearance. Wrinkles and lines along the face are typically the result of muscle contraction in the affected areas. BOTOX® Cosmetic uses a purified form of botulinum toxin type-A, which helps prevent muscles from contracting within the targeted areas, leading to a smoother appearance to the skin. To begin the process, BOTOX® Cosmetic is injected into the targeted areas with an extremely fine needle. The BOTOX® Cosmetic procedure typically takes about 10 minutes to complete, depending on the size and number of treatment areas. There is usually no downtime required, and most patients continue normal daily routines right after the procedure. The results of BOTOX® Cosmetic often last up to four months, and the effects can be maintained with occasional "touch-up" treatments.
If wrinkling persists to some degree after muscle paralysis with Botox, a filler can be utilized to augment the residual depression.
KYBELLA® Non-Surgical Double Chin Reduction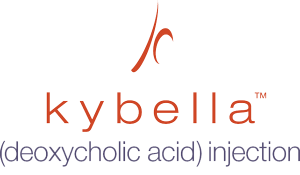 Fat accumulated below the chin is a common cosmetic concern for many men and women. Until recently, surgical solutions like liposuction were the only way to effectively treat the appearance of a double chin caused by excess fat. Thankfully, we now have KYBELLA®, a revolutionary new injectable treatment recently approved by the FDA for the reduction of excess fat under the chin. KYBELLA® is composed of an acid that occurs naturally in the body for fat metabolism. When it is applied to regions under the chin, KYBELLA® destroys excess fat cells, allowing them to be eliminated from the targeted areas through natural processes in the body. For optimal results, it is suggested that patients undergo at least two KYBELLA® sessions. The number of treatments necessary will ultimately depend on each patient's unique needs. Patients that have tried KYBELLA® treatment at the Aesthetic Surgery Center of Napa have been pleased with the smoother, firmer contours they have achieved under the chin and along the neckline. Since this procedure is non-surgical, it also does not require extensive downtime. To find out if KYBELLA® treatment may be right for you contact the Aesthetic Surgery Center of Napa to schedule your consultation.
Volumizing Injectables
JUVÉDERM®

JUVÉDERM® can be used to treat fine lines and wrinkles along the face for a smoother, refreshed appearance. This is another of our advanced injectable products that is composed of hyaluronic acid, a substance natural to the human body. It is an effective solution for those who are looking to smooth out deep wrinkles and lines in the nasolabial folds and brow. Lip augmentation is another common usage. Treatment typically takes 30 minutes or less to complete. Results from JUVÉDERM® can last from six to nine months, and even longer periods in some cases.
JUVÉDERM VOLUMA™ XC

JUVÉDERM VOLUMA™ XC is the only hyaluronic acid-based filler approved by the FDA to add volume to the midfacial region. Patients 21 and older can take advantage of the filler to add volume to cheeks that have taken on a sunken or hollow appearance. Results are long-lasting with some patients seeing the rejuvenative effects for up to two years.
Belotero®

Belotero®, another hyaluronic acid formulation, is a recent addition to our injectable alternatives, and has been very successful, especially in the areas of fine lines, thin skin, and the undereye depressions (tear trough) so commonly seen. Our office was one of the first in the country to have experience with this product.
Sculptra®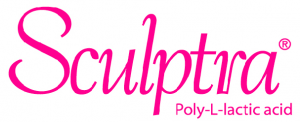 Sculptra® is a dermal filler composed of poly-L-lactic-acid. This unique treatment can diminish signs of wrinkles, and is often useful for patients experiencing a loss of facial volume in the cheeks and around the eyes. Sculptra® encourages collagen stimulation within the skin and deeper tissues, which helps to add volume over time and keep the effects going for a longer period. Dr. Zimmermann injects Sculptra® into the targeted areas using a thin needle and can provide you with a numbing agent to minimize any discomfort during treatment. The results of Sculptra® Aesthetic can last up to two years, and even longer in some patients.
Artefill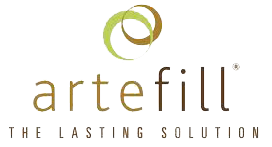 Artefill consists of smooth microspheres of polymethylmethacrylate that are encapsulated by the body's own collagen. It is the only FDA approved permanent injectable. There are a variety of areas suitable for its use in the face. Dr. Zimmermann has served on the Plastic Surgery Advisory Committee for Artefill, and was the training Plastic Surgeon in multiple Asian countries during its international introduction.
Contact the Aesthetic Surgery Center of Napa Valley
If you have any questions about injectable dermal fillers, or if you would like to schedule a consultation, please contact the Aesthetic Surgery Center of Napa Valley today.