Breast Implants
The main components of breast augmentation procedures, breast implants are designed to add volume and enhanced contours to your breasts with results that look natural. Our board-certified plastic surgeon, Dr. John P. Zimmermann, will explain the differences between the many breast implant options available to you, and even show you some examples that you can examine and feel. At the Aesthetic Surgery Center of Napa Valley, we offer a comprehensive array of implants from which to choose.
Sizes, Shapes, and Types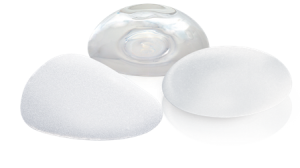 Breast implants come in a range of sizes, as well as a variety of shapes, such as round and teardrop. They are also available in low, moderate, and high profile ranges to give you the desired forward projection results.
There are indeed many different sizes and shapes of breast implants; however, there are only two major types:
Silicone Breast Implants
Approved by the U.S. Food and Drug Administration for breast augmentation patients aged 22 and over (and breast reconstruction patients of any age), silicone breast implants are made of a silicone outer shell and filled with a thick, medical-grade silicone gel. They are known for a very natural look and feel. This type of implant is often beneficial for women who are very thin and for those who are undergoing a breast reconstruction.
Saline Breast Implants
Saline breast implants are FDA-approved for breast augmentation patients over the age of 18. Composed of a silicone outer shell, saline breast implants are filled with a salt-water solution instead of a gel. Since they can be filled after placement, saline implants typically require a smaller incision than silicone implants. These implants have been used in breast augmentation procedures for decades, and can also have very natural-looking results.
Saline and silicone breast implants each have their own distinct advantages. Dr. Zimmermann will explain all of your options to you in detail during your initial consultation, and you are encouraged to ask any questions you may have. At this meeting, Dr. Zimmermann will help you determine the size, shape, and type of breast implant that can best meet your goals.
Contact the Aesthetic Surgery Center of Napa Valley
If you would like more information on breast implants, or if you would like to schedule a consultation with Dr. John P. Zimmermann, please contact the Aesthetic Surgery Center of Napa Valley today.