Breast Implants
The main components of breast augmentation procedures, breast implants are designed to add volume and enhanced contours to your breasts with results that look natural. Our board-certified plastic surgeon, Dr. John P. Zimmermann, will explain the differences between the many breast implant options available to you, and even show you some examples that you can examine and feel. At the Aesthetic Surgery Center of Napa Valley, we offer a comprehensive array of implants from which to choose.
In addition to helping patients choose the right implants, Dr. Zimmermann is also dedicated to educating all of his breast implant patients about potential complications so they are fully aware of any risks. In one of the sections below, Dr. Zimmermann discusses the facts about Breast Implant Associated-Anaplastic Large Cell Lymphoma (BIA-ALCL).
Sizes, Shapes, and Types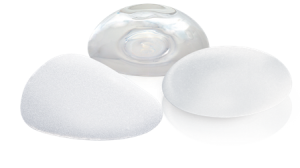 Breast implants come in a range of sizes, as well as a variety of shapes, such as round and teardrop. They are also available in low, moderate, and high profile ranges to give you the desired forward projection results.
There are indeed many different sizes and shapes of breast implants; however, there are only two major types:
Silicone Breast Implants
Approved by the U.S. Food and Drug Administration for breast augmentation patients aged 22 and over (and breast reconstruction patients of any age), silicone breast implants are made of a silicone outer shell and filled with a thick, medical-grade silicone gel. They are known for a very natural look and feel. This type of implant is often beneficial for women who are very thin and for those who are undergoing a breast reconstruction.
Saline Breast Implants
Saline breast implants are FDA-approved for breast augmentation patients over the age of 18. Composed of a silicone outer shell, saline breast implants are filled with a salt-water solution instead of a gel. Since they can be filled after placement, saline implants typically require a smaller incision than silicone implants. These implants have been used in breast augmentation procedures for decades, and can also have very natural-looking results.
Saline and silicone breast implants each have their own distinct advantages. Dr. Zimmermann will explain all of your options to you in detail during your initial consultation, and you are encouraged to ask any questions you may have. At this meeting, Dr. Zimmermann will help you determine the size, shape, and type of breast implant that can best meet your goals.
Breast Implant Associated-Anaplastic Large Cell Lymphoma (BIA-ALCL)
Recently the media has been reporting on breast implants and a very rare form of non-Hodgkins lymphoma—Breast Implant Associated-Anaplastic Large Cell Lymphoma (BIA-ALCL). Dr. Zimmermann believes that it is important for women who have breast implants and those considering breast implants to receive factual information regarding this subject. If you or a loved one has received breast implants within the past 50 years, the following information will likely be of interest to you:
BIA-ALCL
Worldwide, an estimated 30 million women have received breast implants, some for reconstruction, and most for cosmetic purposes.
BIA-ALCL is not a form of breast cancer, but it is a very rare and treatable T-cell lymphoma that involves the capsule of fibrous tissue around the implant, and usually presents as a swelling of the augmented breast a significant period of time after the healed augmentation procedure.
In the USA, the current lifetime risk of BIA-ALCL is estimated to be 1 out of 30,000 in women with textured breast implants, based on current confirmed cases and textured implant sales data over the last 25 years. (Breast implants have been available in various forms since the mid 1960s.)
Thus far, there have been no confirmed cases of BIA-ALCL in women who have had "smooth walled" breast implants. Both saline and silicone gel-filled implants have been identified in this population.
The FDA is not recommending removal of textured implants. Rather, the FDA recommends, as does Dr. Zimmermann, that every woman conduct regular self-examination. If you should develop swelling or a lump, contact our office right away. Dr. Zimmermann will comprehensively evaluate you and order appropriate testing, as indicated.
Although mammograms are key in the diagnosis of typical breast cancer, they usually have no role in the diagnosis of BIA-ALCL. Diagnosis is usually made from fine needle sampling of the fluid that accumulates around the implant in the affected patients.
Women who develop BIA-ALCL can often be cured by simply removing the implant and the fibrous capsule surrounding it. Some patients may require further therapy. Following removal of the involved implant and capsule, replacement with a smooth surface implant may be an option.
Additional information about BIA-ALCL is available on the following reputable websites:
The American Society for Aesthetic Plastic Surgery (ASAPS): https://www.surgery.org/media/resources
The American Society of Plastic Surgeons (ASPS): https://www.plasticsurgery.org/patient-safety/breast-implant-safety
Dr. ZImmermann has never seen a patient with BIA-ALCL, nor have any of his colleagues from around the country with whom he has spoken. Dr. Zimmermann appreciates all of his patients and values their health and safety above all. He will continue to monitor any new developments closely, and keep patients apprised of any pertinent new information. If you have questions or concerns about BIA-ALCL, Dr. Zimmermann is available to answer your questions personally.
Contact the Aesthetic Surgery Center of Napa Valley
If you would like more information on breast implants, or if you would like to schedule a consultation with Dr. John P. Zimmermann, please contact the Aesthetic Surgery Center of Napa Valley today.