Napa Valley Plastic Surgeon Discusses the Differences Between Breast Implant Types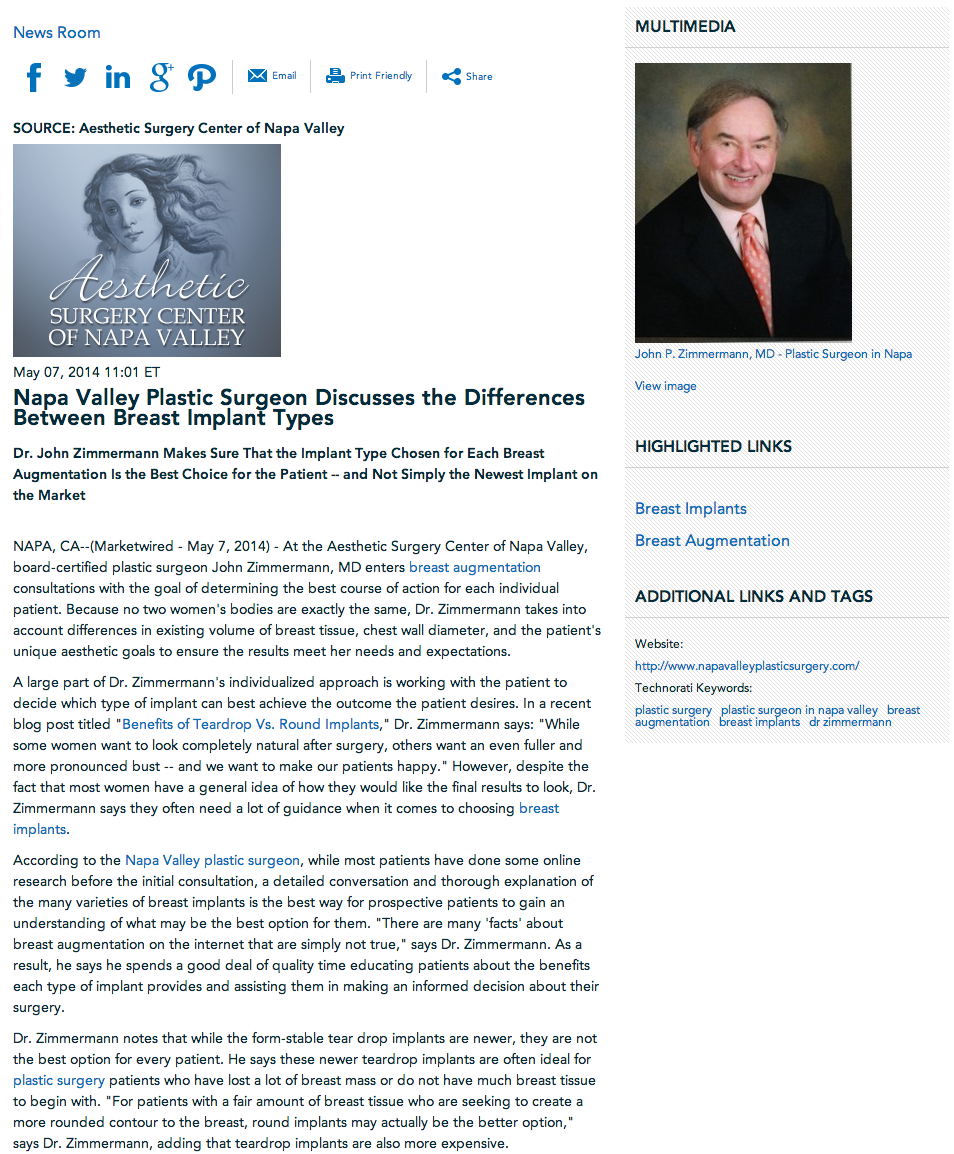 Dr. John Zimmermann makes sure that the implant type chosen for each breast augmentation is the best choice for the patient – and not simply the newest implant on the market.

Napa, CA – At the Aesthetic Surgery Center of Napa Valley, board-certified plastic surgeon John Zimmermann, MD enters breast augmentation consultations with the goal of determining the best course of action for each individual patient. Because no two women's bodies are exactly the same, Dr. Zimmermann takes into account differences in existing volume of breast tissue, chest wall diameter, and the patient's unique aesthetic goals to ensure the results meet her needs and expectations.
A large part of Dr. Zimmermann's individualized approach is working with the patient to decide which type of implant can best achieve the outcome the patient desires. In a recent blog post titled "Benefits of Teardrop Vs. Round Implants," Dr. Zimmermann says: "While some women want to look completely natural after surgery, others want an even fuller and more pronounced bust – and we want to make our patients happy." However, despite the fact that most women have a general idea of how they would like the final results to look, Dr. Zimmermann says they often need a lot of guidance when it comes to choosing breast implants.
According to the Napa Valley plastic surgeon, while most patients have done some online research before the initial consultation, a detailed conversation and thorough explanation of the many varieties of breast implants is the best way for prospective patients to gain an understanding of what may be the best option for them. "There are many 'facts' about breast augmentation on the internet that are simply not true," says Dr. Zimmermann. As a result, he says he spends a good deal of quality time educating patients about the benefits each type of implant provides and assisting them in making an informed decision about their surgery.
Dr. Zimmermann notes that while the form-stable tear drop implants are newer, they are not the best option for every patient. He says these newer teardrop implants are often ideal for plastic surgery patients who have lost a lot of breast mass or do not have much breast tissue to begin with. "For patients with a fair amount of breast tissue who are seeking to create a more rounded contour to the breast, round implants may actually be the better option," says Dr. Zimmermann, adding that teardrop implants are also more expensive.
Rather than pushing the newest implant on the market, Dr. Zimmermann says he wants to help the patient select the implant that is the best fit for her unique circumstance.
About John P. Zimmermann, MD
Dr. John Zimmermann is a Stanford-trained plastic surgeon and the founder of the Aesthetic Surgery Center of Napa Valley. Certified by the American Board of Plastic Surgery, Dr. Zimmermann is also a Clinical Assistant Professor with the Division of Plastic Surgery at Stanford University School of Medicine. He is available for interview upon request.
For more information about Dr. John P. Zimmermann and the Aesthetic Surgery Center of Napa Valley, visit napavalleyplasticsurgery.com or facebook.com/ASCNV.
Contact:
Aesthetic Surgery Center of Napa Valley
3443 Villa Lane, Suite 10
Napa, California 94558
(707) 258-6077
Rosemont Media
[email protected]
(858) 200-0044
www.rosemontmedia.com