Napa Valley Plastic Surgeon Authors Blog Series Revealing All About Abdominoplasty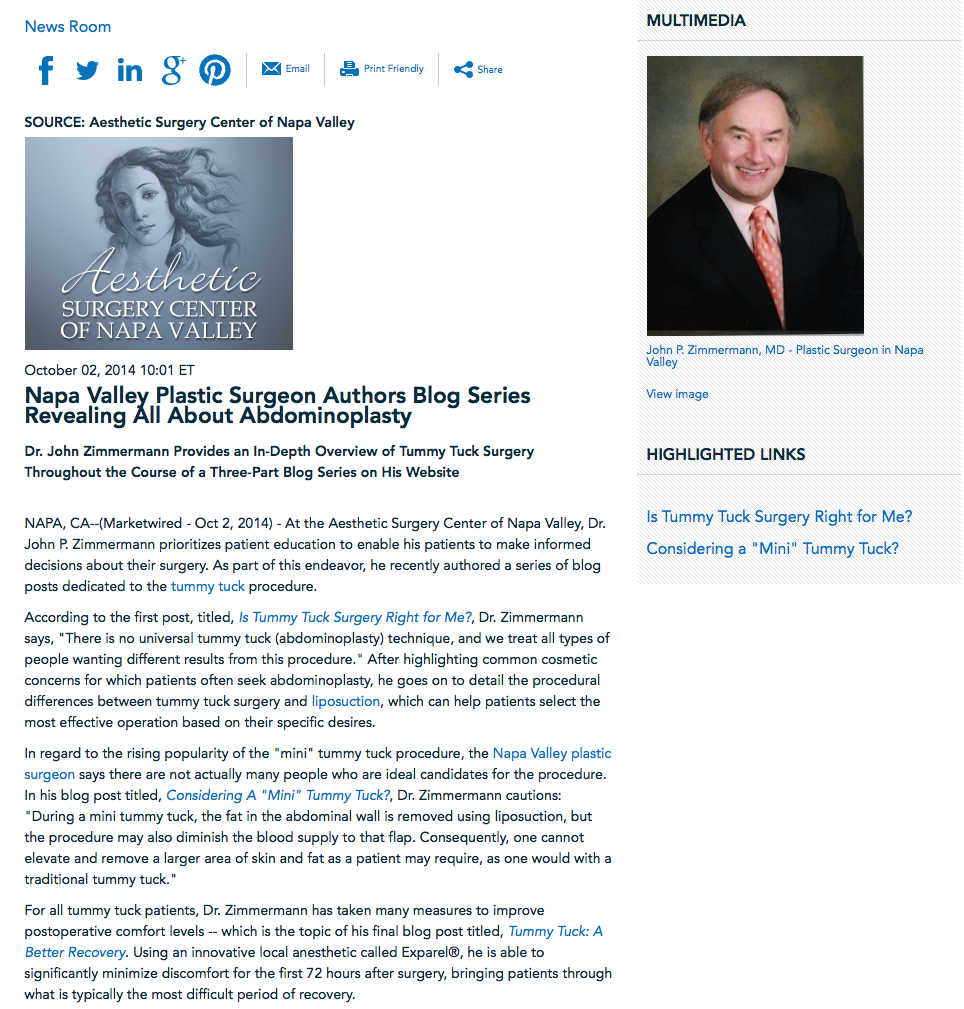 Dr. John Zimmermann provides an in-depth overview of tummy tuck surgery throughout the course of a three-part blog series on his website.
Napa, CA – At the Aesthetic Surgery Center of Napa Valley, Dr. John P. Zimmermann prioritizes patient education to enable his patients to make informed decisions about their surgery. As part of this endeavor, he recently authored a series of blog posts dedicated to the tummy tuck procedure.
According to the first post, titled, Is Tummy Tuck Surgery Right for Me?, Dr. Zimmermann says, "There is no universal tummy tuck (abdominoplasty) technique, and we treat all types of people wanting different results from this procedure." After highlighting common cosmetic concerns for which patients often seek abdominoplasty, he goes on to detail the procedural differences between tummy tuck surgery and liposuction, which can help patients select the most effective operation based on their specific desires.
In regard to the rising popularity of the "mini" tummy tuck procedure, the Napa Valley plastic surgeon says there are not actually many people who are ideal candidates for the procedure. In his blog post titled, Considering A "Mini" Tummy Tuck?, Dr. Zimmermann cautions: "During a mini tummy tuck, the fat in the abdominal wall is removed using liposuction, but the procedure may also diminish the blood supply to that flap. Consequently, one cannot elevate and remove a larger area of skin and fat as a patient may require, as one would with a traditional tummy tuck."
For all tummy tuck patients, Dr. Zimmermann has taken many measures to improve postoperative comfort levels – which is the topic of his final blog post titled, Tummy Tuck: A Better Recovery. Using an innovative local anesthetic called Exparel®, he is able to significantly minimize discomfort for the first 72 hours after surgery, bringing patients through what is typically the most difficult period of recovery.
In the end, Dr. Zimmermann stresses that diet, exercise, and watching one's weight are the keys to not only a successful recovery, but also for maintaining the results of the tummy tuck procedure long into the future.
About John P. Zimmermann, MD
Dr. Zimmermann is a plastic surgeon certified by the American Board of Plastic Surgery and the founder of the Aesthetic Surgery Center of Napa Valley. In addition, he serves on the Clinical Faculty at the Stanford University School of Medicine. Dr. Zimmermann is available for interview upon request.
For more information about Dr. John P. Zimmermann and the Aesthetic Surgery Center of Napa Valley, visit napavalleyplasticsurgery.com or facebook.com/ASCNV.
Contact:
Aesthetic Surgery Center of Napa Valley
3443 Villa Lane, Suite 10
Napa, California 94558
(707) 258-6077
Rosemont Media
(858) 200-0044
www.rosemontmedia.com